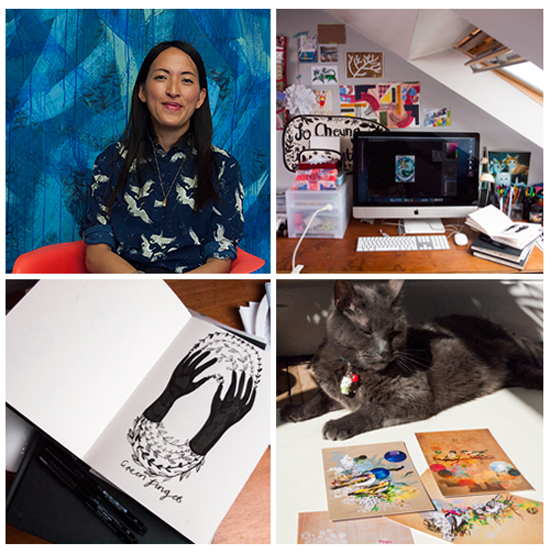 Hello there!
I'm an illustrator and designer whose works ranges from a variety of mediums: magazine articles, web graphics, and greeting card designs. Originally from Doncaster, I moved to London to study illustration at The University of Westminster and has since resided in North London. My work often depicts imaginary, dreamy and surreal landscapes as I'm interested in the complex and conflicting relationship between animals and humans. My inspiration mostly comes from past experiences, my own imagination and thoughts, books, films, exhibitions, travelling and trying out new ways of making images. With all of this in mind, I get my ideas down onto paper and that's the start for all my illustrations.
I also make and design my own range of paper products such as cards, limited edition art prints and hand printed notebooks.
I am represented by Advocate Art.
Clients: Spindle Magazine, Ballad Of Magazine, Paper Circus, Africa Fashion, Vans, MacUser Magazine, Gia London, Amelia's Magazine, 19-77 Design and Junkie Lovers Boutique.
Stockists:  20-21 Visual Arts Centre (Scunthorpe).
Exhibitions and Events
2016
Tropical Safari Art & Illustration Exhibition at A-Side B-Side Gallery, London. Curated by myself and Emily Bakes.
2015
House of Tigers Exhibition at A-Side B-Side Gallery, London.
Covet Pop-Up Shop and Exhibition at The Hackney Shop, London.
The Story So Far at W3 Gallery in Acton, London.
Into the Sun at A-side B-side Gallery, London.
2013
The Crafties in Sheung Wan, Hong Kong.
On These Magic Shores Exhibition at the O3 Gallery in Oxford.
2012
Hellohead's Live Portrait Event at Cargo, London.
The Picture Show at The Coningsby Gallery, London.
Cultivate at Vyner Street with The Meenan Sisters, London.
Showcase Cities at Rich Mix, London.
2011
Flamingo Magazine: The Flamingo Arts Project Number 1.
Sorted, East Gallery in Brick Lane, London.
'Can you see the Rainbow from There?' Exhibition. Artwork donation for the Japanese earthquake and tsunami.
Noise Festival Secret Santa Sale. Anonymous Art postcard Fundraiser.
2009
KiosKiosK – Hemingway Design and NOISE Festival, London.
Artkitchen 'Eggs and Chicken Party' London.
D&AD New Blood Exhibition, London.
P3 Final Year Degree Show, London.
Featured
Pikaland . Artupdate Learning Blog . Feature Me . Grafik Mag . Creaturemag . Tea and Crayons Collective . Art Hound . Notpaper
Publications 
Doncopolitan, December Christmas Issue, December 2017
Yen Magazine, Issue 53, March 2012
Flamingo Magazine, The Great Outdoors Issue. 2011
The Great Big Book of Fashion Illustration, Martin Dawber, Batsford Ltd. 2011
S1 Magazine, 2011
Cut-Click Front Cover design. January Issue, 2011
Amelia's Magazine Compendium of Fashion Illustration, 2010
Mail Me Art Exhibition, 2010
And I Still Miss You…., Issue 19 2010
PeculiarBliss Magazine, Issue 3 2010. Dreamscape
Blanket Magazine, The Landscape Issue 2010
Cut-Click Magazine, Issue 1 2010
3rd Floor Magazine, Issue 3 2010
Graphic Design School: Fourth Edition. A Foundation Course for Graphic Designers Working in Print, Moving Image and Digital Media, Thames & Hudson.
MacUser Magazine, February 2010 edition
Wallpaper 2010 Graduate Directory