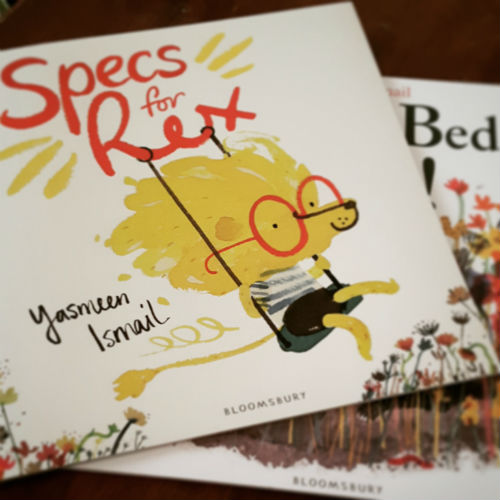 The other night June Sees and I went along to Bloomsbury Publishing's illustration masterclass, which was run by the lovely and extremely talented Yaseem Ismail.
The masterclass was about the publishing side of children's picture book and also looking at from the very first drafts to the final finished book in bookshops.
Yasmeen was full of energy and enthusiasm during the evening! She was sort of bouncing across the room from the projector to the whiteboard; really engaging the audience with her words of (very good) advice. I loved how she gave the talk based on her own personal experiences mixed with industry experience as it was interesting to see how she managed to get to where she is now. With lot's of persistence, motivation, years of hard work, her dedication and passion really shone through during the masterclass.
Yasmeen was really direct and to the point about certain subjects such as finding your own style and how to get a good portfolio together. When she was talking about 'style', it took her a while to find a medium she was happy to work with. The most important thing she said about it was that there's no wrong way in making images, which I whole-heartedly agree. Be inspired by things around you, when you're down then take a break and go back to it.
In regards to the publishing industry, she went through each of the stages and how it filters down to getting in on the book shelves to parent's buying the books for their little ones.
I don't want to give too much away for those who haven't been to it. I would recommend going if you're interested in picture book illustrations.
By the end of the masterclass I was feeling very motivated and reflected about my own practices as an illustrator. I bought 'Specs for Rex' and 'Time for Bed, Fred!", both beautifully illustrated, and got Yasmeen to sign them both for me!