Hello folks! It seemed so long ago since my last blog post- I hope you've all had a nice start to November (also, you can believe that Christmas is literally around the corner?!). I can't believe that it's been almost two weeks since we left Japan, I know, sad face right now 🙁 We had such an amazing and an unforgettable time in China and Japan, it's such an eye-opening experience when you go away to somewhere for a good amount of time and you're kind of left feeling like you want more of it. The day after we came back I was looking at flights to go again next summer!
I have decided to split this blog post into two parts as I feel like I'll be rambling on for ages (mostly about the food of course), but I also want a well written and documented experience of it so that I have something to look back on. Sit back, get yourself a drink/snack and I hope you enjoy reading our experiences in China and Japan!
---
China: Beijing.
Well, spent a day in Beijing since our layover was about 12 hours- so we decided to make the most of it and get out of the airport! The only time I've been to China was when we went to Shenzhen a couple of years ago, so I was defiantly looking forward to visiting China even if it was for a short period of time. For some reason I expected China to be small, as in, you could walk from one place to another a bit like Hong Kong. No. Not at all. China is massive, absolutely huge. The roads are massive. To get to one place to another you're better off getting the metro. We thought we could walk it but we got lost for a bit and ended up having to navigate to the nearest metro station!
Once we got to the Forbidden City we were both in complete awe. Actually, we couldn't get in as tickets for the day were sold out so we walked around it and went into one of the gardens. I cannot describe how incredible it is to see the Forbidden City in real life.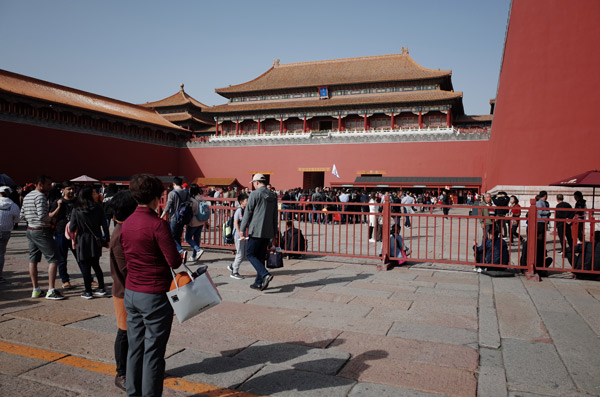 After spending a good couple of hours at the Forbidden City we got some food at a restaurant and literally fell asleep at 10pm as we were both completely k.o.'ed from the flight! I have never had jet lag this bad before and we were both awake for about 20 hours straight! Absolutely knackered having been awake due to adrenaline and the time difference, I couldn't keep my eyes open for any longer and slept with a full belly.
Goodbye China! We'll be back in the future for sure.
Note: You don't need a visa if you're visiting for 24 hours, 72 hours or 144 hours but do let your airline know about it before you check-in. Also, you need to fill out a form before going through immigration for the visa. 
---
Japan: Jozankei and Hakodate
Our first stop in Japan was Hokkaido. I've been to Hokkaido before, but that was a good 13 years ago so my memories of it are slightly hazy (apart from the sweet memory of us eating Kobe for the first and last time!).
Sam had booked us into to a ryokan in Jozankei. Jozankei is known for its hot springs since there's loads of them around that area. We stayed in this lush little place called Nukumori No Yado Furukawa. Just what I needed! The rooms are an absolute delight, really spacious and they provide you with traditional Japanese pyjamas called jinbei. If you are not familiar with onsens I totally recommend you experience it if you are ever in Japan! Totally do it otherwise you are missing out on it! You can spend a whole day chilling out: go for an onsen, eat nice food, have a spa sesh, then repeat this several times until you are in ultra relax mode. I can't tell you how good your body feels after an onsen.
When we left there were quite a lot of staff who waved us off (even the chefs were standing outside of the inn to say goodbye to us!). I was so gutted to leave the place; the staff there were so friendly and kind and were always willing to help us whenever they could. They even had a buffet Japanese breakfast! My eyes popped out of my head when I saw the food, it made my peanut butter and toast look well sad! The food there was absolutely delicious. We also had a set dinner the evening before we left and it was so, so good.
We stayed for two nights and although there isn't loads to do around the area, you can spend most of your time in the onsens. There are a couple of local places to eat and drink, again, the food was amazing.
Side note: I recommend you get the JR Rail pass as it makes travelling around Japan so easy. The JR Rail Pass allows you to travel on the Shinkansen (apart from two other lines though, please check the terms and conditions! It was the Nozomi line and another one I do not remember!) P.S. The trains are increibly spacious and clean. You need to get the ekibans (local bento boxes) if you're hungry.
… or just 7-Eleven it!
Hakodate
After leaving Hokkaido we got the Shinkansen to Hakkodate and stayed over for the night. It was a good couple of hours on the Shinkansen so I decided to start working on my sketchbook Chantal had bought me for our honeymoon (another post to come). The next morning we got up super early to go to the Morning Market, which is right next to the station.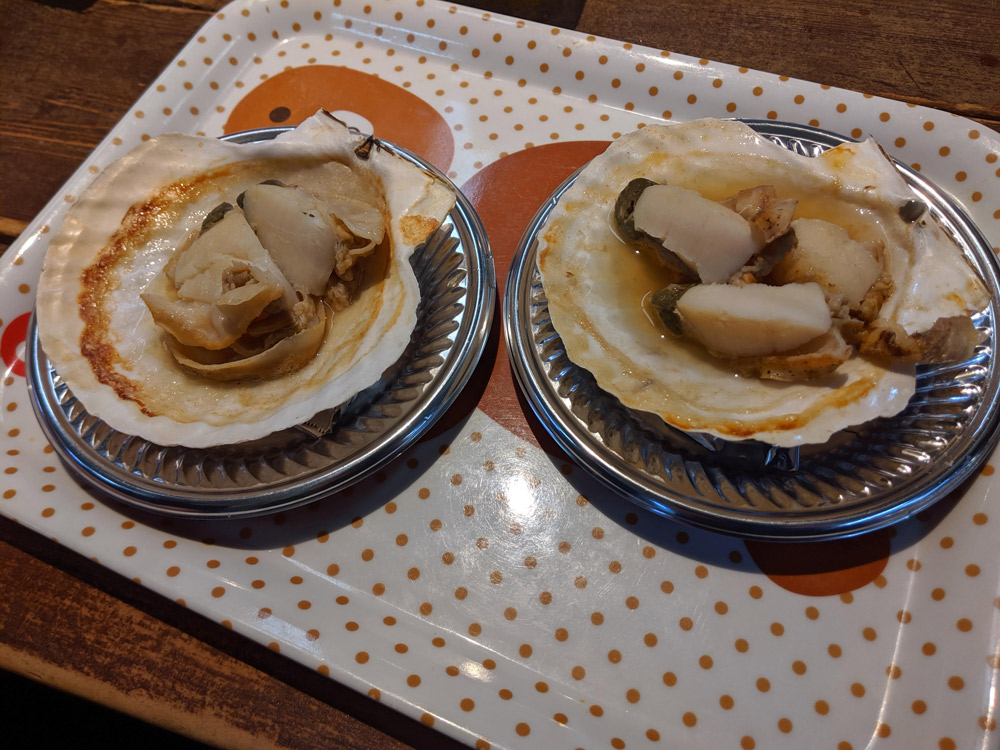 Unfortunately, we weren't there for super long as we were heading to the cat island so we didn't get the chance to eat as much as we could! We had fresh scallops for breakfast and a squid ink boa, which I could've eaten 20 of those! I think if we were there for longer we would've gone to the outdoor bit as there were tons of food for sale.
I am going to leave it here as I'll continue with the next post over the weekend. I hope you've enjoyed reading it and if you have anything to share please post in the comments section.
Thanks as always!