Crafting My Way Through Lockdown
Hello everyone, hope you're all keeping safe and taking care of yourselves. The last couple of weeks since my last post has been, well, sort of strange. Since lockdown has extended, I have been trying to stick to some sort of routine as I'm finding myself getting a bit worked up not being able to go out. We've got a garden and I've spent a lot of my time gardening and hanging outside now that the weather has been proper beaut. I do want to buy some flowers and large planters so that I can get started with making the garden looking prettier for the summer time. 🌼🌸🌳 We've also been talking about getting another barbecue as a our current one is looking slightly sad and rusty! You can also get mini pizza ovens that go on top of your barbecue… I know, a game changer right?!
I finished reading The Testaments by Margaret Atwood the other night and I have to say that although the book itself was pretty gripping, I found the narrative to be quite repetitive at times. Not like I'm giving anything away, but in my opinion I really enjoyed The Handmaid's Tale more than The Testaments. I suppose I had pretty high hopes for it but unfortunately it doesn't cut it for me. The next book on my reading list is In A Different Key: The Story of Autism by John Donavan and Caren Zucker. The book looks at the history of the development of autism theories, with it comes other theorists who've studied autism so you read it from the pretext of the theorists for that time. Some of it is actually pretty challenging and controversial (for then and now), and I don't mean it in a good way either e.g. everyone highly praises Leo Kanner but if you look into his later work its gets super weird and horrible. The book also examines our understanding and notions of autism, currently, we are getting better at diagnosing children (I will include adults) on the autism spectrum due to major advancements in technology as well as science. I started reading it a few years ago and then stopped so I'm going to start again and carry on with it.
Apart from talking about food all the time (when all this eventually blows over and we return to some sort of normality), I've also taken up weaving which I started a few weeks ago and I've not looked back since.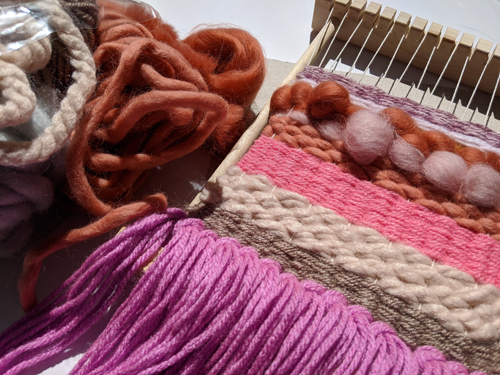 I'm planning on buying a bigger loom from Etsy as I would like to have a go at making a larger weave for our living room. There are lots of kits on Etsy (just have a search for it) and most of them include yarn so you can get cracking on it. I really enjoy being hands on and practical again, the act of making something with your hands is super rewarding. I also can't stop buying yarn as well…. please stop me! I need help with my yarn obsession.
In between weaving I bought a lovely embroidery kit from Cotton Clara and I'm so happy with my little rainbow banner 🌈🌈. It brings me so much joy every time I see it! I also bought my mum a kit and she was overjoyed with it (will be being her another one…).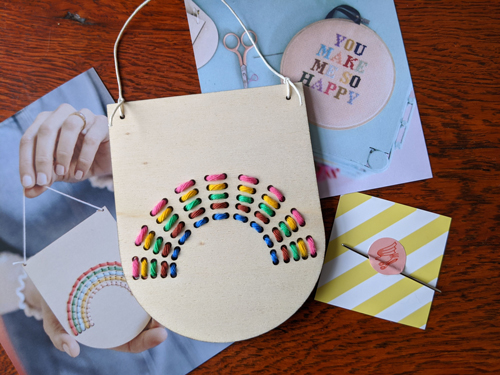 I also wanted to get my hands on clay and make some ornaments/presents for people. I bought some air-dry clay from Hobbycraft plus lots of other bits and bobs, I have to say, I'm really pleased with the results. I made some moon ornaments using two types of clay as I wanted a marble effect. You can YouTube tutorials for all these things (hurrah for this!), or ask folks on Twitter or Instagram. I varnished the ornaments using some Fimo gloss varnish, once they were dry I made a garland using some twine I already had.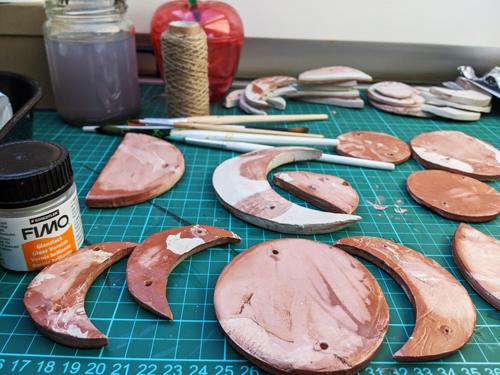 I love working from our loft space. During the evenings when the sun is setting, the light is incredibly beautiful and our view overlooks other houses on our street. There's this warm fuzzy glow just as the sun is about to set.
I'm going to end my post here. Are there any other crafts/hobbies/books you've picked up since the lockdown? I'd love to hear from you in the comments below.
❤️❤️Thanks for reading as always! ❤️❤️